Southeast Idaho is a land of pioneer history, Indian traditions and wide-open outdoor recreation. Today you can admire the same forests, mountains, rivers and lakes, as the earlier inhabitants who have settled, passed through, or lived in these lands.
This is land that has been shaped by massive geologic upheavals. The same natural forces that created nearby Yellowstone National Park left behind hot springs, limestone caves, and dramatic peaks and valleys. Rivers and man-made reservoirs also dot the landscape, combining to produce great terrain for exploration and recreation.
In summer, there is ample swimming, camping, fishing, golfing, boating, and ATVing in the forests and recreation areas here. In winter months, you can ski, snowboard, snowmobile, show shoe, or ice fish--then soak in a natural hot spring to relax.
Major Attractions
Bear Lake is a 150 square mile natural lake with a striking turquoise color. It is surrounded by low, lightly timbered mountains, marshland and rangeland. It is popular with boaters, skiers and sailors, and also offers decent fishing for cutthroats, rainbows, mackinaw, whitefish and yellow perch.
The Bear River is part of the westward flowing slope of the Rockies. It starts in the mountains of Utah and flows northwest to Idaho's Bear Lake Valley and on to Soda Springs where it turns south through Preston and empties into the Great Salt Lake. It travels over 400 miles to cover a distance of only 90 miles. Along the way are great opportunities for fishing and other water recreation.
Pebble Creek Ski Area is a great place to ski and snowboard. A new Terrain Park is popular with snowboarders. It's just a short hike from the chair lift to ski the powder of the un-groomed back side of the mountain.
Activities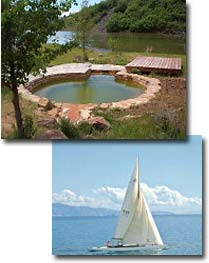 Camping - Two National Forests and two state parks provide tent and RV space with nature. More are available from privately owned campgrounds.
Fishing - 44 lakes and reservoirs plus numerous rivers and creeks create a memorable fishing experience.
Trails - More than 1000 miles of groomed trails for motorized ATVs and mountain bikes are within the public lands of Southeast Idaho. Non motorized trail for hiking, backpacking and riding horses area available in several areas. The most impressive is the 55-mile Highline Trail traveling the mountain tops from Soda Springs to the state border on the south.
Water Sports - Water skiing, jet skiing and pleasure boating are mostly done on the three largest lakes and reservoirs at American Falls, Bear Lake, Soda Springs and Twin Lakes, plus the Snake River at Massacre Rocks. Blackfoot has a fund spot right of the freeway called Jensen Grove.
Rodeo - Nearly every weekend during the summer there is a small town rodeo somewhere in the area, usually accompanied by several events of local flavor to make them memorable spectator outings.
Mountainman Rendezvous - Definitely a Kodak moment spectator event. Early summer at Marsh Creek and late summer at Bear Lake and Cub River Guest Ranch near Preston.
Golf - 12 beautiful and challenging golf courses are open to the public. You can even golf right over the ruts the Oregon Trail Pioneers left with their wagons in Soda Springs!
Cities and Towns
Pocatello has always a hub for travelers, located at a major junction in the American northwest. One of Idaho's largest lakes, American Falls Reservoir, is nearby, the Snake River runs through town, and ski areas and other outdoor recreation is just a stone's throw away.
Montpelier is a central hub of business in the Bear Lake Valley, with plenty of Oregon Trail history and modern conveniences, located in a pretty region surrounded by scenic drives and outdoor adventures.
American Falls is on the shore of a large reservoir which powers much of the area. Water recreation on the reservoir is popular, as well as golfing and bird watching.
Lava Hot Springs is home to both the refreshing, natural pools it's named after, as well as ample lodging and camping spots and plenty of scenic parks.
Request Free Visitor Guide