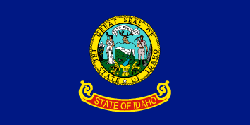 Idaho
"Gem State"
Motto

Esto perpetua (It is forever)

Capitol

Name Origin

An invented name whose meaning is unknown.

Statehood Date

July 3, 1890 (43rd)
Cities in Idaho
NOTE: Not all cities are displayed. Please narrow your selection by using the search above.
Official Symbols
A state's official symbols represent the composition and culture of the land and people who live and have lived here. Below are the symbols of Idaho along with the year they became official.
| | |
| --- | --- |
| Flower | Syringa (1931) |
| Tree | White Pine (1935) |
| Bird | Mountain Bluebird (1931) |
| Horse | Appaloosa (1975) |
| Gem | Star Garnet (1967) |
| Song | "Here We Have Idaho" |
| Folk Dance | Square Dance |
| Fish | Cutthroat Trout (1990) |
| Fossil | Hagerman Horse Fossil (1988) |
Demographics
Population Density

15.6 people per square mile
Geography and Weather
Land Area

82,747 sq mi. (214,315 sq km)

Lowest Elevation

0 ft (0 m)

Average Elevation

5000 ft (1524 m)

Highest Temperature Recorded

118°F (48°C) on July 28, 1934

Lowest Temperature Recorded

–60°F (–51°C) on January 18, 1943