Bear Lake Valley is an amazing place all year round. Fall is among us and it's a wonderful time to come on out and enjoy the mountains. From crisp leaves, cool air, and colorful mountains. So much to do in the fall season. The mountains are gorgeous. Very colorful with orange and yellow hues.
Activities
Fishing is Fantastic in Bear Lake Valley, a renowned fishing destination. Cutthroat trout, mackinaw, and several species unique to Bear Lake Valley can be caught, breakers of 30 lbs. and up have been pulled from these waters. Trolling and jigging from boats is popular year-round, with winter and spring being the most productive seasons. You can also find more information on Fish and Game for more fishing regulations and of course fishing spots! Many people love fishing off the beach sides. Also, book your winter trips for ice fishing! Bring your friends and family out to enjoy the frozen iced over lake.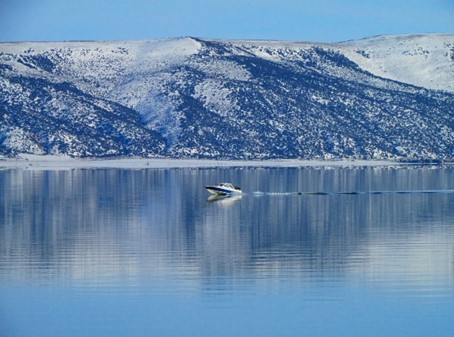 Watersports are amazing in the summer. In the fall, it is fun to go out on a boat and enjoy the views of the lake and scenery. Also, fishing is a must!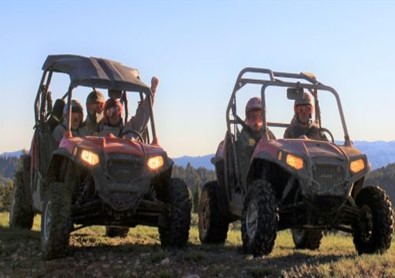 ATV Bring your Four Wheelers, Dirt bikes, Side by sides out! Experience incredible trails! Bear Lake Valley has many trails you can enjoy while you ride your ATV. If you don't own one no worries. We have plenty of places that can gear you up and get you on the road!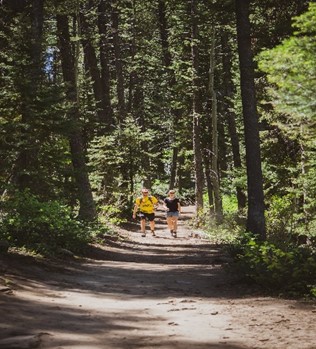 Hiking and Biking Trails the canyons around the lake opens up peaceful new vistas and provides access to secluded areas. Mild temperatures and changing colors make for inviting trails at many levels of difficulty. Limber Pine trail and Porcupine Trail are fantastic. So many trails through Bear Lake to enjoy!
Horseback Riding in the Canyons and other nearby areas is another great way to experience the forested countryside around the lake. Horseback riding is so relaxing and a great activity for any time of the day!
Camping in Bear Lake Valley is popular and accessible: over 500 campgrounds are available around its shores. From primitive tent sites to areas with showers, full RV hookups you'll find a site to match your needs. If you want to camp but want to feel like you're at a luxurious hotel there is even glamping!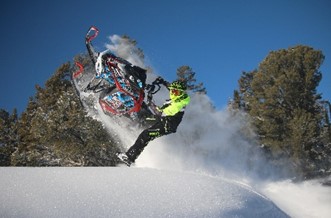 Snowmobiling during winter months is a joy, with over 350 miles of groomed trails and wide-open play areas with no crowds. The variety of terrain and spectacular scenery offers snowmobilers of all ability levels the chance to find challenges and fun.
Bird Watching at the Bear Lake National Wildlife Refuge on the north shore of the lake can be immensely satisfying. Thousands of birds pass through these 18,000 acres of marshland and grassland each year, including sandhill cranes, white pelicans, and white-faced ibis. Also keep an eye out for Moose and other mammals in the refuge! Bring binoculars and spotting scopes! Also bring your cameras to get some incredible photos!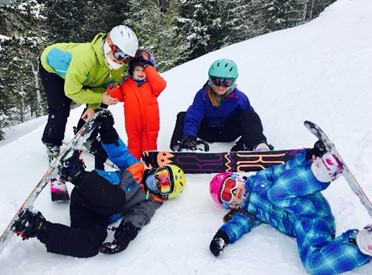 Skiing and Cross-Country Skiing opportunities abound at Bear Lake. Beaver Mountain Ski Resort just 10 miles west of Garden City offers fabulous powder for downhill skiers, and an extensive network of trails are magical to explore on cross-country skis. Also, enjoy the peacefulness in the air! Bring your thermos with Hot Cocoa!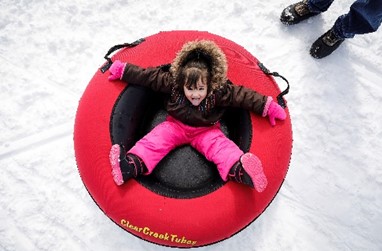 Snowtubing Bring the family out and go snow tubing and sledding. So many fun hills all over the mountains. If you can't pack tubes no worries. Plenty of places rent them.
Cities and Towns
At the Bear Lake Convention & Visitors Center we range from Georgetown, Idaho to Woodruff, Utah! Take a beautiful drive and enjoy all the towns in these counties!
Garden City, Utah is a lakeside community on the southwestern shore, with lodging and dining venues for visitors.
Montpelier, Idaho offers access to the north side of the lake, with amenities and a hospital.
Events
Bear Lake Monster Winterfest is almost here! The weekend is filled with tons of activities! Here is a full list of things going on through the whole weekend! You really don't want to miss this 3 Day event! Below is the whole line up!
January 24-26, 2020
Monster Winter Sports & Trails Day
Friday 9am – 3pm
Logan Canyon Sinks Area
This FREE event provides an opportunity to try winter sports. There will be fat-tire bikes, snowshoes, snowmobiles, and tubes (for the kids). Free hot cocoa & treats. Free shuttle from the Marina and Sunrise Resort to the Sinks area.
Monster Winterfest Kick-off Party
Friday 4pm – 10pm
Sunrise Resort & Event Center
Free family-friendly fun! Games for ALL ages, children's movie, trivia, concert/DJ with dancing, karaoke, hot chocolate bar, donuts, & auction. Packet pickup for 5K available during the Party.
Monster Outdoor Expo
Friday 4pm – 10pm (Sunrise Resort & Event Center Only)
Saturday 10am – 3pm
Sunrise Resort Event Center & Bear Lake State Park Marina
Monster 5K Run/Walk
Saturday
9am – Packet pickup
10am – Race Begins
Sunrise Resort Event Center
Adults $30, Kids $20, or Family of four is $60. Costume contest.
Monster Cisco Disco Tournament
Saturday
11am-noon – Fish must be entered at the marina at this time
Dip net for Cisco fish on the east side of Bear Lake at dawn. Traditionally "Cisco Beach" is the best place to go. State Park entrance fee applies but is well worth it. You'll also need to have a Utah fishing license.
Bring your BIGGEST little Cisco fish to the Utah State Park Marina. Winners announced at the Awards Ceremony. Kid category and adult category both have great prizes. No cost to enter the contest.
Monster Chili Cook-off
Saturday
9am – 11:30am – Check-in
12:30pm – Judging followed by public sampling
Judges will determine who has the best chili. Great prizes will be given to winners at the Awards Ceremony. Cook registration is $5
Monster Plunge
Saturday
11am – 1pm – Check-in
1:45pm – Costume parade & Judging and plunge after
Bear Lake State Park Marina
"Go jump in a lake!" and help raise funds for The Family Place charity located in Garden City.
Costumes highly encouraged as there will be various prizes for groups and individuals. $30 per jumper includes an event hoodie for pre-plunge online registration. Day of event registration is $35 between 11-1:00pm. Early registration is encouraged if you want to get a hoodie that is your size.
Monster Cardboard Boat Regatta
Saturday 11am – 1pm
Bear Lake State Park Marina
The race is on!
Monster Raffle
Saturday, Noon & 1:30pm
Bear Lake State Park Marina
Every vehicle entering the marina will get a raffle ticket. Must be present to win.
Monster Taste of Bear Lake
Saturday 5pm
Sunrise Resort and Event Center – Sunrise Hall
Local restaurant specialties. $8 adults, $4 kids (2 & under free)
Monster After Party & Awards Ceremony
Saturday 6pm -10pm
Sunrise Resort and Event Center – Sunrise Hall
6pm – Award ceremony for Cisco Disco Tournament, Chili Cook-off, Regatta, Plunge, and Poker Run.
7pm to 10pm – Music and dancing
Dusk – fireworks
Cody's Sweet Cream Pancake Breakfast
Sunday 8am – 11am
Cody's Gastro Garage in Garden City
For the Grand Finale, join us Sunday from 8 a.m. to 11 a.m. for Cody's Sweet Cream Pancake Breakfast! All you can eat pancakes with 2 eggs and 2 strips of backon at Cody's Gastro Garage in Garden City for $5 for kids, $8 for adults!
For more information please visit: https://bearlake.org/event/bear-lake-monster-winterfest/?utm_source=facebook&utm_medium=bear-lake-monster-winterfest&utm_campaign=winterfest&utm_content=10820
For more information on events being held in the Bear Lake, Utah area, please click the button below:
Request Free Visitor Guide